Hello! My name is Katie Coddington, and I'm a sophomore majoring in psychology and minoring in biology and statistics, and I am from the beautiful city of Golden, CO! I honestly couldn't be happier with my choice to venture into the Pacific Northwest and attend PLU. As a junior in high school who was just beginning to look into options for college, I was completely overwhelmed. I didn't know whether I wanted to attend a huge state school or a tiny private school or whether I wanted to stay instate or go out of state. So, I applied to schools of all types just to keep my options open to allow me time to figure out what I was really looking for in a school. Then, later that year, I ventured into the beautiful state of Washington to visit three colleges, Pacific Lutheran University being one of them. I visited the other two schools before I went to PLU—I liked them, but I wasn't blown away.
However, after I visited PLU for the first time, I finally felt like I knew where I belonged. The second I set foot on campus, I felt an overwhelming sense of comfort and optimism. As I went on my tour, people all over said "hello" to me and kindly smiled, even though none of them had met me. I saw students sitting outside on picnic blankets, tossing Frisbees around, and studying; every student seemed so happy and at home. I couldn't believe a school could have such a sense of community! Everyone at PLU was so personable and seemed genuinely interested in my success—it was the first time in my college search that I felt like an actual person and not just a statistic. From the beginning, I knew I wanted to study biology and psychology, but I also had a passion for vocal music that I wanted to pursue. When I heard I could be equally involved in the three programs at PLU, my decision was made.
In addition to singing in Choir of the West and HERmonic, one of my favorite experiences thus far at PLU has been getting to be in the fall "Night of Musical Theater" production for both my freshman and sophomore years. Being in these productions was a great way for me to stay involved in theater even though it's not my major. My sophomore year, I even got a lead in the show and got to perform center-stage in our stunning, new $13 million performing arts complex, the Karen Hille Phillips Center for the Performing Arts.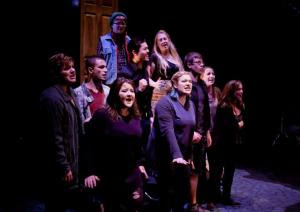 Moving on to my major/minors—why did I choose psychology, biology and statistics, anyway? Honestly, biology has been an interest of mine for as long as I can remember. I was totally that kid who was obsessed with becoming a doctor (my favorite book as a kid was a family health encyclopedia, no joke!). I guess I was just born a scientist.  I think it's truly amazing that everything in this whole world is built from tiny atoms, and that a simple amino acid chains control all of human genetics. I've loved every science class I've taken at PLU so far. Every professor is incredibly knowledgeable, and they all care about students' success so deeply; I honestly feel like they're truly preparing me for a career in a science field. The department has made me so excited about my future, and I'm constantly finding myself wanting to learn more. It's definitely been the right place for me.
On the psychology side of things, it took me longer to acknowledge my vocation for the field—I did not declare a psychology major
 until a month into my sophomore year. My interest in psychology was first sparked when I took an AP Psychology class in high school. I was instantly intrigued by human behavior and the way that the mind works. I constantly found myself asking: Why do we do the things we do, why do we make the choices we make, and what exactly makes me me? When I got to college I knew I wanted to at least minor in this field, so I started right off by taking a 300-level developmental psychology class in my first semester. Then, the first semester of my sophomore year, I took Personality Theories with Dr. Katie Crowell and my life was instantly changed. Dr. Crowell inspired me within minutes of the first class; I could tell she was a professor who truly cared about each and every student. After that class, I went and visited her office hours, which resulted in a conversation that ultimately lead me to not only add a psychology major, but to also do student-faculty research with Dr. Crowell. Our research has been a major success, and she and I plan to publish our research to psychology journals. We also just finished presenting  our findings at the Washington Psychological Association Conference in Portland. It was an incredible experience, and it made me realize my true love for psychology even more. The picture below is of Dr. Crowell and I at the conference, in front of the poster we presented. Psychology makes me come alive, and if that's not finding your vocation, I don't know what is.